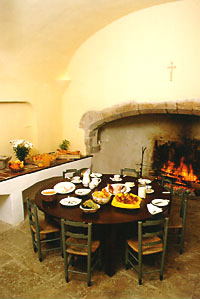 France is rightly known for its wonderful cuisine and Provence is no exception. The markets abound with delicious fruit and vegetables ripened by the Provençal sun, goats' cheese and lavender honey, almonds and olives, and these and other local produce find there way onto the restaurant tables in the form of mouth-watering dishes. In Esparron you can sit outside at one of three terrace restaurants serving a variety of dishes and styles of cuisine, from  wafer-thin pizzas at the Bar du Lac and exotic Thai curries at The Paris London Café to the Bistrot 04 92 77 16 64 copious freshly-prepared salads and traditional dishes.
Quinson is only 15 minutes drive away and here you will find one of our favourite restaurants, the family-run Relais Notre Dame, which has been serving traditional provençal food for generations. Even the desserts are home-made from scratch and you can tell! Chez Kinou 04 92 74 40 29 is also a home to good local cooking and is pleasantly situated overlooking the lake at Quinson.
If you are looking for a gourmet treat, Alain Ducasse's La Bastide de Moustier at Moustier Sainte Marie  is justifiably renowned.
These are only a few of our favorites; there are many restaurants whether grand or modest in the area around us serving delicious food and the list below is by no means exhaustive.
› click here to get the full list of restaurants
› consult the classification of the best restaurants of the Alpes de Haute-Provence on TRIPADVISOR